Bihar Staff Selection Commission 10+2 Inter Level Various Post Pre Revised Result, Mains Online Form 2021
Bihar Staff Selection Commission (BSSC)
10+2 Inter Level Recruitment
Advt No. 06060114 Pre Revised Result 2021
Short Details of Notification
BSSC 10+2 Inter Level Mains Online Form 2021 Bihar Staff Selection Commission BSSC Have Released Revised Pre Exam Result for Inter Level Examination 2021. for the Post of BSSC 10+2 Inter Level Mains Online Form 2021, The Candidates Are Qualified the Prelim Exam Can Give Mains Exam, Candidate Must Read the Full Notification of Mains Exam and Download Result, All the Link Have Been Given Below for BSSC 10+2 Inter Level Mains Online Form 2021.
Important Dates
Application Re-Opened: 22/02/2016
Last Date for Apply Online: 13/03/2016
OLD Exam Date: 29/01/2017, 05/02/2017,19/02/2017,26/02/2017
New Exam Date :08,09,10 December 2018
Admit Card Available: 22/11/2018
Result Available: 14/02/2020
Mains Application Begin: 28/02/2020
Last Date for Fees Payment: 16/03/2020
Last Date for Mains Apply Online: 18/03/2020
Mains Exam Date: December 2020
Mains Result Out: 26/02/2021
Typing Test Start: 13/07/2021
PET Exam Start: 03-04 August 2021
Pre Revised Result Available: 20/09/2021
Mains Online Form (Only for Additional Candidates): 20/09/2021 to 04/10/2021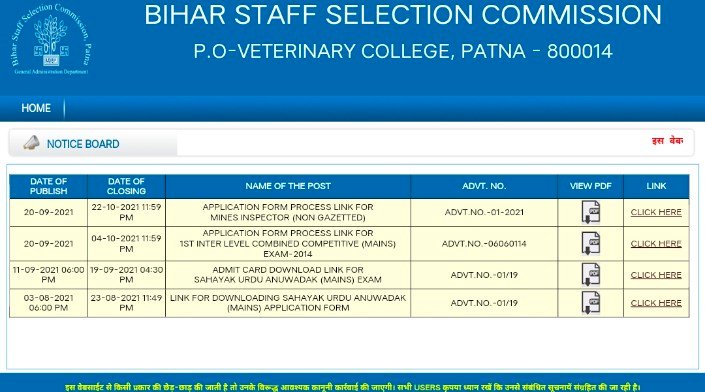 Application Fee
General / OBC : 300/-
SC / ST: 75/-
Eligibility
Passed 10+2 (Intermediate) Examination in Any Recognized Board in India.
Only Prelim Exam Qualified Candidate Can Eligible for Mains Exam Form 2020.
Age Limit as on 23/01/2006
Forest Guard: 18-23 Years
Other Post Male: 18-37 Years
Other Post Female: 18-40 Years
Age Relaxation Extra as per Rules
For More Details See Notification
Vacancy Details Total Post: 13120
| | | | |
| --- | --- | --- | --- |
| Department | Post Name | Eligibility | Total Post |
| Forest Deptt | Forest Guard | Passed 10+2 Exam with Physical Eligibility | 693 |
| Police Deptt | Promp ASI | Passed 10+2 Exam with Typing and Physical Eligibility | 87 |
| Police Deptt | Typing ASI | Passed 10+2 Exam with Typing and Physical Eligibility | 78 |
| Home Deptt Special | Leader Instructor | Passed 10+2 Exam with Physical Eligibility | 122 |
| Food & Consumer Protection Deptt | LDC | Passed 10+2 (Intermediate) Exam in Any Recognized Board in India. | 45 |
| Mantrimandal Sachivalaya | LDC Hindi | Passed 10+2 (Intermediate) Exam with Hindi Typing | 113 |
| Mantrimandal Sachivalaya | LDC Urdu | Passed 10+2 (Intermediate) Exam with Urdu Typing | 30 |
| Minority Welfare Dept. | LDC | Passed 10+2 (Intermediate) Exam | 71 |
| Transport Department | LDC | Passed 10+2 (Intermediate) Exam with Computer Knowledge | 36 |
| Labor Resources Dept., Directorate of Training & Employment | LDC for ITI College | Passed 10+2 (Intermediate) Exam in Any Recognized Board in India. | 77 |
| Arts Culture and Youth Department | LDC | Passed 10+2 (Intermediate) Exam in Any Recognized Board in India. | 112 |
| Products & Madh Nishedh Department | LDC | Passed 10+2 (Intermediate) Exam in Any Recognized Board in India. | 293 |
| Kara and Sudhar Sevayen | LDC | Passed 10+2 (Intermediate) | 71 |
| Directorate of Training & Employment | LDC (Backlog) | Passed 10+2 (Intermediate) Exam in Any Recognized Board in India. | 19 |
| Directorate of Training & Employment | LDC | Passed 10+2 (Intermediate) Exam in Any Recognized Board in India. | 28 |
| Social welfare Deptt | LDC | Passed 10+2 (Intermediate) | 18 |
| S P V Department | LDC | Passed 10+2 (Intermediate) | 184 |
| Labor Resources Dept | LDC | Passed 10+2 (Intermediate) | 12 |
| Samanya Prashashan Vibhag | LDC | Passed 10+2 (Intermediate) Exam in Any Recognized Board in India. | 1751 |
| Water Resource Deptt | LDC | Passed 10+2 (Intermediate) | 511 |
| SC and ST Category Welfare Dept | LDC | Passed 10+2 (Intermediate) Exam in Any Recognized Board in India. | 69 |
| Environment and Forest Department | Stenographer | Passed 10+2 (Intermediate) with Stenographer for Details See Notification | 21 |
| Food and Consumer Protection Dept. | Steno Typist | Passed 10+2 (Intermediate) with Stenographer for Details See Notification | 61 |
| Labor Resources Department | Steno Typist | Passed 10+2 (Intermediate) with Stenographer for Details See Notification | 05 |
| Samanya Prashashan Vibhag | Stenographer | Passed 10+2 (Intermediate) with Stenographer for Details See Notification | 125 |
| Water Resource Deptt. | Stenographer | Passed 10+2 (Intermediate) with Stenographer for Details See Notification | 116 |
| Information and Public Relations Deptt | Clerk | Passed 10+2 (Intermediate) Exam in Any Recognized Board in India. | 35 |
| Environment and Forest Department | Clerk | Passed 10+2 (Intermediate) Exam in Any Recognized Board in India with Typing | 56 |
| Food and Consumer Protection Dept. | Bench Clerk | Passed 10+2 (Intermediate) Exam in Any Recognized Board in India. | 19 |
| Social welfare Deptt | Bench Clerk | Passed 10+2 (Intermediate) Exam | 37 |
| Water Resource Deptt | Junior Account Clerk | Passed 10+2 (Intermediate) Exam in Any Recognized Board in India. | 187 |
| Production and Other Department | Lower Product Clerk | Passed 10+2 (Intermediate) Exam in Any Recognized Board in India. | 48 |
| Revenue & Land Development Dept. | Revenue Clerk | Passed 10+2 (Intermediate) Exam in Any Recognized Board in India. | 4353 |
| Panchayati Raj Department | Panchayat Sachiv | Passed 10+2 (Intermediate) Exam in Any Recognized Board in India. | 3161 |
| Mantrimandal Sachivalaya | Asst Urdu Translator | I.A. Pass with Urdu and Knowledge of Hindi | 96 |
| Social welfare Deptt. | Industry Teacher | For Eligibility Details See the Notification | 03 |
| Social welfare Deptt. | Reader | For Eligibility Details See the Notification | 02 |
| Social welfare Deptt. | Clerk | Passed 10+2 (Intermediate) Exam in Any Recognized Board in India. | 02 |
| Tourism Department | Asst Grade I | For Eligibility Details See the Notification | 7 |
| Samanya Prashashan Vibhag | Bench Clerk | Passed 10+2 (Intermediate) Exam in Any Recognized Board in India. | 2 |
| Social welfare Deptt | Shilp Teacher | For Eligibility Details See the Notification | 2 |
Some Important Links
| | |
| --- | --- |
| Apply Online (Mains) | |
| Download Notification (Mains) | |
| Download Revised Pre Result | |
| Download Revised Pre Result | |
| Download PET Exam Date | |
| Download Typing Test Date | |
| Download Result (Mains) | |
| Download Admit Card (Mains) | |
| Download Exam Notice (Mains) | |
| Apply Online (Mains) | |
| Download Notification (Mains) | |
| Download Result | |
| Download Result (Server II) | |
| | |
| --- | --- |
| Download Admit Card | |
| Download Exam Notice | |
| Download Exam Notice | |
| Download Exam Date | |
| Pay Examination Fee | |
| Download Current Notice | |
| Download Notification | |
| Official Website | |
Some Other Useful Posts