Madhya Pradesh High Court Group D Class IV Various Post Online Form 2021
MP High Court Group D
Madhya Pradesh High Court MPHC, Jabalpur
MPHC Group D (Class IV) Recruitment 2021
MP Advt No. 120/Exam/2021
Short Details of Notification
MP High Court Group D Madhya Pradesh High Court, Jabalpur has Released the recruitment of 708 Group D posts. Apart from the High Court, these are the District Court's of Various Cities. The candidate who is interested and Eligible for this recruitment Must Apply online Till the Last Date. For Other information such as selection procedure, type, pay scale and other information Must Read the Full Notification Before Applying Online, All the Link Have Been Given Below For MP High Court Group D.
Important Dates
Application Begin: 13/11/2021
Last Date for Apply Online: 28/11/2021
Pay Exam Fee Last Date: 28/11/2021
Exam / Interview Date: Notified Soon.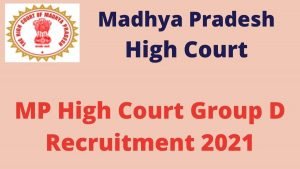 Application Fee
General / Other State: 216.70/-
SC / ST / OBC : 116.70/-
MP High Court / District Court Class IV 2021 – Age Limit as on 01/01/2021
Minimum Age: 18 Years.
Maximum Age: 40 Years.
Age Relaxation Extra as per Rules.
MP High Court Group D 2021 | Vacancy Details Total: 708 Post
Post Name

Total Post

MP High Court Group D – Eligibility

Driver

69

Class 10 High School Exam Passed with LMV Driving Licenses.

Mentor / Watchman / Water Carrier

475

Mali

51

Sweeper

113
MP High Court Group D 2021 – District Wise Vacancy Details
| | | | | |
| --- | --- | --- | --- | --- |
| District | Mentor / Watchman / Water Carrier | Driver | Mali | Sweeper |
| Alirajpur | 0 | 01 | 0 | 02 |
| Anuppur | 05 | 03 | 0 | 01 |
| Ashoknagar | 06 | 0 | 01 | 02 |
| Balaghat | 04 | 0 | 0 | 02 |
| Badhwani | 08 | 0 | 02 | 01 |
| Baitul | 09 | 0 | 01 | 01 |
| Bhind | 03 | 0 | 01 | 02 |
| Bhopal | 38 | 01 | 01 | 01 |
| Burhanpur | 08 | 01 | 01 | 02 |
| Chhattarpur | 12 | 02 | 01 | 03 |
| Chindwada | 12 | 01 | 02 | 02 |
| Damoh | 05 | 03 | 01 | 01 |
| Datia | 05 | 02 | 0 | 01 |
| Dewas | 12 | 01 | 01 | 01 |
| Dhar | 28 | 02 | 01 | 07 |
| Dindori | 02 | 01 | 0 | 0 |
| Guna | 07 | 0 | 01 | 0 |
| Gwalior | 08 | 03 | 01 | 03 |
| Harda | 03 | 01 | 01 | 01 |
| Hoshangabad | 11 | 02 | 01 | 05 |
| Indore | 15 | 01 | 0 | 05 |
| Jabalpur | 12 | 08 | 01 | 03 |
| Jhabhua | 04 | 02 | 01 | 02 |
| Khandwa | 07 | 02 | 01 | 0 |
| Katni | 12 | 02 | 03 | 03 |
| Mandla | 10 | 02 | 01 | 04 |
| Mandsaur | 11 | 02 | 01 | 05 |
| Murena | 12 | 03 | 03 | 04 |
| Mandleshwar | 06 | 0 | 01 | 01 |
| Narsighpur | 09 | 03 | 01 | 03 |
| Neemach | 12 | 02 | 01 | 03 |
| Panna | 10 | 0 | 0 | 03 |
| Raisen | 06 | 01 | 01 | 02 |
| Rajgarh | 05 | 01 | 04 | 0 |
| Ratlam | 22 | 0 | 0 | 01 |
| Rewa | 04 | 0 | 02 | 01 |
| Sagar | 24 | 02 | 01 | 01 |
| Satna | 10 | 01 | 01 | 07 |
| Sehore | 13 | 01 | 04 | 04 |
| Sewani | 10 | 02 | 01 | 03 |
| Shahdol | 05 | 0 | 0 | 02 |
| Sajapur | 11 | 03 | 02 | 02 |
| Shyopur | 08 | 01 | 01 | 02 |
| Shivpuri | 13 | 01 | 01 | 05 |
| Sidhi | 01 | 01 | 01 | 03 |
| Singrauli | 07 | 01 | 01 | 02 |
| Umaria | 03 | 0 | 0 | 02 |
| Ujjain | 22 | 03 | 0 | 0 |
| Vidisha | 05 | 0 | 0 | 02 |
Some Important Links
| | |
| --- | --- |
| Apply Online | |
| Download Date Change Notice | |
| Download Notification | |
Some Other Useful Posts